57th ANNUAL AWARDS GALA WINNERS
Congratulations to all of the Winning Businesses and Leaders in our community!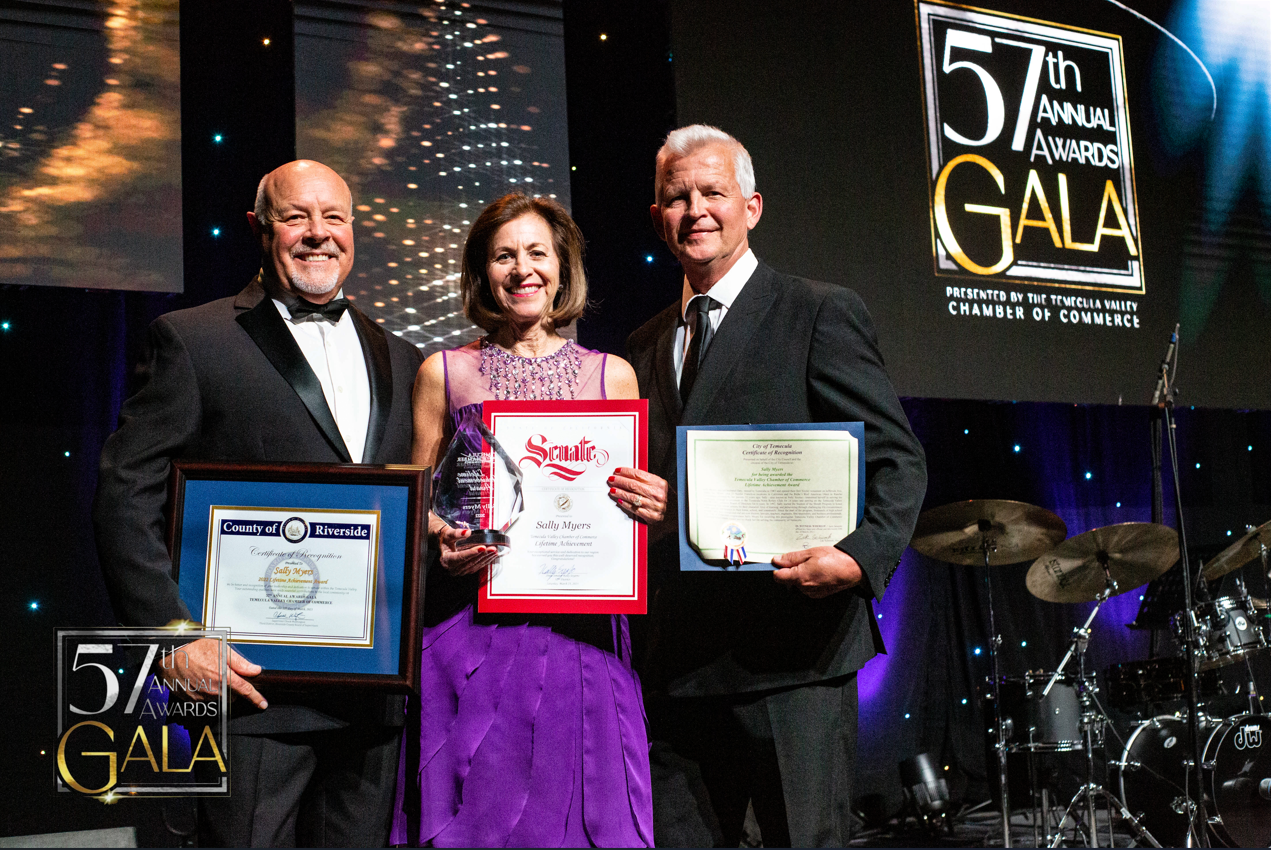 Photography by Sebaz Video Production
TEMECULA, CA - On Saturday, March 25th, 2023 the Temecula Valley Chamber of Commerce held its Annual Awards Gala at Pechanga Resort Casino. This premier event was a memorable night of elegance and excitement, with over 750 attendees. The evening included dinner, an extravagant silent auction, an outstanding awards presentation, and a memorable after party. The event was sponsored by Abbott and Pechanga Resort & Casino.
The Temecula Chamber proudly awarded the following businesses, organizations, and citizens:
Bronze Business of the Year - Barbie Ray Designs
Barbie Ray Designs, Inc. is a graphic design company helping small businesses go from being overwhelmed to overjoyed by taking the guesswork out of their visual brand. Founded in 2017, the company has established a reputation for its exceptional quality and attention to detail. With over 15 years of experience in design and marketing, Barbie Ray Designs develops brands that are purposeful and strategic. The company's mission is to empower small businesses to brand BIGSM.
Sterling Business of the Year - The Law Offices of Rosenstein & Associates
For over 29 years, Rosenstein & Associates has been providing high quality and professional legal services to the Temecula Valley. Rosenstein & Associates is proud to have been an active member of the community providing assistance not only to our clients, but supporting many of the communities' non-profit organizations and have been an active member of TVCC. Rosenstein & Associates provides services relating to transactional matters, business litigation, business reorganization (including Chapter 11 assistance) and estate planning assistance.
Gold Business of the Year - Chick-fil-A Temecula
Chick-fil-A Temecula is a rapidly growing, community-oriented restaurant. Family owned and operated, it's located at 40531 Margarita Road, outside of the Promenade Mall. Chick-fil-A is the purveyor of the beloved Original Chicken Sandwich, Waffle Potato Fries, fresh squeezed lemonade, brewed tea and hand spun milkshakes. Chick-fil-A also offers many healthy food options. Known for its fresh food and great customer service, Chick-fil-A Temecula is a destination for families all over the Inland Empire.
Platinum Business of the Year - Pechanga Resort Casino
Pechanga Resort Casino, rated a Four Diamond property by AAA since 2003, features a gaming floor larger than any Las Vegas resort; 1,100 luxury hotel rooms and suites; a two-story, stand-alone spa featuring healing native botanicals; a massive 4.5-acre pool complex; a sought-after and highly-rated championship golf course; 12 restaurants to fit any dining mood; and two major live entertainment venues offering shows by top-name entertainers every week. The Pechanga Tribe has provided more than $25 million to local government for additional police, traffic mitigation, and fire services, and in addition, the Pechanga Fire Department provides mutual aid to Temecula and CalFire. The Pechanga Tribe also continually gives back to the community – giving more than $15 million to local schools and non-profit organizations that help uplift our community and residents.
Ruby Organization of the Year - Sale Ranch Animal Sanctuary
Founded in 2012, Sale Ranch Animal Sanctuary rescues, rehabilitates, and educates on behalf of farm animals, promoting cruelty-free lifestyles and reducing our impact on the earth through regenerative farming practices. Our community support includes growing and donating farm fresh fruits and vegetables to a local food bank and teaching sustainable gardening skills while
advocating for farm animals. We provide a safe space where we, together, can create a more
compassionate and kinder world for all.
Emerald Organization of the Year - Oak Grove Center
Oak Grove Center is a nonprofit residential, educational and treatment Center for children and youth with psychological, emotional and behavioral problems and special needs. Oak Grove also has a Wraparound Program and Partial Hospitalization. Oak Grove Center's mission is to rebuild the lives of at-risk children and their families through education, healing, restoring relationships, building character and instilling hope. We believe that "The work we do today builds a better tomorrow" .Empowering Success Transforming Lives.
Valley Young Professional of the Year - Jonathon Montanez, Ruff and Ready Moving & Storage
Jonathon Montanez has been involved in VYP since 2017 and has held such positions as leadership co-chair, events chair and is currently serving as leadership co-chair for the 2023 year. Jonathon was born in Corona and graduated from Elsinore H.S. in 2003. He then went on to achieve his A.S. in Respiratory Therapy in 2010. In 2017, Jonathon accepted a new position as community liaison for a local family business in the Temecula Valley. Unbeknownst to him, his life would forever be changed with the adoption of his Temecula Valley Chamber of Commerce family and as an extension; his Valley Young Professional family. He immediately fell in love with this new life of working within the community to build from the inside out, success through relationships, education, mentorship and a genuine desire to give. These are the goals and aspirations that Jonathon has found in the Valley Young Professionals leadership team along with its many members. Jonathon is the Public Relations Manager for Temecula Valley Chamber of Commerce 2021 Gold Business of the Year recipient Ruff and Ready Moving and Storage. He also owns a business called Life of the BARty Mobile Bartending Service which he runs with his wife Elyse with whom he also raises their 4 beautiful children in the Temecula Valley.
Ambassador of the Year - Paul Rangel, Sofa Spectrum Furniture & Massage Chairs
Paul Rangel is married to Lisa Rangel. Between them they have 6 children, Julian, Dominique, Dominic, Danielle, Marissa and Erika. Paul has been in the retail industry for over 35 years and has lived, worked in Murrieta / Temecula Valley's for over 20 years. Paul opened Sofa Spectrum in 2015. Paul's mission is to provide the best service in the furniture industry as well reflected on his Yelp reviews with over a hundred 5 Star reviews. Paul has also served 2 terms as Board Member at CCBC Church in Temecula. Leading the Men's ministry and became Head of Ministries in 2018. In 2022 Paul's business was first to join TVCC, Paul quickly excelled as an Ambassador to serve, volunteer, and collaborate in the Temecula Valley and local communities. Paul created Latino Talk Temecula a business and community platform and is currently involved in a subcommittee for Shop Local Temecula Valley.
Chairman's Choice - Jackie Steed, BigBlock Realty
Jackie Steed has lived and worked in Temecula with her husband Jeff and 2 boys since 2001. From 2006-2011 she was a small business owner and served on the Board of the Temecula Chamber for 2 years before taking some time out to return to her homeland of Ireland. Jackie returned to Temecula in July 2012 simply because she loves this area and everything it has to offer. She has volunteered for many non-profits over the last 15 years including, Safe, Susan G Komen, Habitat for Humanity, Our Nicholas Foundation and Oak Grove to name a few. Jackie has been in the real estate industry since early 2014. Her love of the Temecula Valley and everything it has to offer inspires her to stay involved and continue to serve her community. Jackie currently serves as the 1st Vice Chair of the Board of the TVCC. Jackie has always had a passion for the Temecula Chamber and everything that it has to offer the community.
Citizen of the Year -  Leah Di Bernardo, Extraordinary Artisian Table
Award-winning Chef, Leah offers 22 years of experience building a value and passion-driven career. As the founder and Chef of Extraordinary Artisan Table and champion of Good Food Education in the Temecula Valley, she has amassed success through a tenacious spirit paired with a deep passion to help improve our collective quality of life through the belief that "food/soil is medicine". She has been featured in countless publications, from the L.A. Times to the Huffington Post to the Boston Globe. Awards include Culinary Champion, Resilience Award, Business of the Year, and Chef of the Year. She advocates for young women in the field of culinary arts; founded 26 edible and academic school garden programs; teaches "Exploration of Culinary Arts; and has partnered with MSJC to spearhead an 85-acre evolutionary eco-farm learning space for Southern California.
Lifetime Achievement - Sally A. Myers, Sizzler
Sally Myers, known as Sally Sizzler, has been stompin' around Temecula since 1979, when her parents, Jack & Linda Williams purchased an equestrian ranch in De Luz for a little weekend R&R. Sally & her husband, Gary of 46 years, also Torrance High sweethearts, moved to Temecula in 1983 with their 3 children upon opening their first proto-type Sizzler on Jefferson Avenue. Today the Myers own 21 Sizzler Franchise locations in California and the Richie's Real American Diner in Rancho Cucamonga, founded by her parents 32 years ago. Sally & Gary are celebrating 40 years of caring and serving others in their restaurant communities. Sally and her family fell in love with Temecula and quickly immersed themselves in all that the Valley had to offer. That was just the beginning…Sally became a Chamber Ambassador in the 80's, worked on early Chamber Tourism and Education projects, and was known to local radio listeners as Sally Sizzler. She partnered with the schools on her Recognition of Outstanding Character program, Temecula Noon Rotary Club for 24 years and served as a TVCC Board of Director for 6 years. For 25 years, she's been the energetic pooper scooper for her family's equestrian entry in the Temecula July 4th parade. Sally catered the first Boys & Girls Club Auction, the Balloon & Wine Festival and hosted several inaugurating events in her pioneer days. In 1992 Sally was inspired to start the Student of the Month Program, Inc. to honor outstanding high school college-bound seniors for their character, love of learning and persevering through challenging life circumstances while making a difference in their home, school, and community. Her program operates in Temecula, Murrieta, Lake Elsinore and Perris/Menifee. However, Sally's most humble contribution is encouraging people to serve others with their God-Given gifts.
The Temecula Valley Chamber of Commerce would like to thank all of the attendees, nominees, candidates, sponsors, and special contributors for their commitment to the Chamber and their community. We thank you for your support and look forward to celebrating the citizens, non-profits and businesses in the Temecula Valley for years to come.