A-Bell Alarms Receives Light Commercial Installation of the Year From Resideo
Resideo's CONNECT 2022 Customer Event Honors Companies Making a Difference

"
A-BELL ALARMS RECEIVES LIGHT COMMERCIAL INSTALLATION OF THE YEAR AWARD FROM RESIDEO
Resideo's CONNECT 2022 Customer Event Honors Companies Making a Difference
A-Bell Alarms recently accepted the 2022 Light Commercial Installation of the Year Award, presented by Resideo at its 33rd Annual CONNECT customer event. The award honors small business security installations that incorporate the latest Resideo offerings. The winning entry from A-Bell Alarms was for an installation of a Resideo ProSeries system. It was a retrofit of an existing alarm system in a 100K+ square foot industrial building in Temecula, CA.
Describing the installation, Chris Sizemore stated, "For this particular site, the building's existing security system appeared to have gone through multiple site remodels and had de-evolved to the point where the previous alarm company could not keep the system reliably operating. Rather than attempting to repair the existing system as the client first desired, we were able to accept the job on the condition that we would install the ProSeries system to replace and expand their current security. While usually, the size of the building and the amount of interior concrete walls and metal cages would be a problem for a wireless system, we were able to install the ProSeries system in a central location.
We used four remote keypads at the four employee entry locations in the building. With one added repeater, the ProSeries system successfully covered the entire 100K+ building and has worked great for our client and us."
With a brand promise of protecting what matters most, Resideo is a leading global provider of home comfort and security solutions and offers trusted brands, including Honeywell Home and First Alert. During the 33rd annual CONNECT customer event, the "Making a Difference" theme showcased the impact Resideo's solutions offer its network of security dealers, HVAC contractors, and plumbers and recognized the impact they have on their communities.
Additional information about Resideo's CONNECT 2022 event, awards, and winners is available on the Resideo newsroom.
About A-Bell Alarms Company
A-Bell Alarms Company has been installing, monitoring, and servicing custom top-quality security and life safety systems in the Southern California area since 1971. Owned and operated by Chris and Kathy Sizemore, A-Bell Alarms has been serving the Temecula Valley and adjoining regions with custom security for small businesses, light industrial, and residential clients since 1985.

103,008 sq-ft industrial building in Temecula, CA was retrofitted with a new Resideo ProSeries security system from A-Bell Alarms Company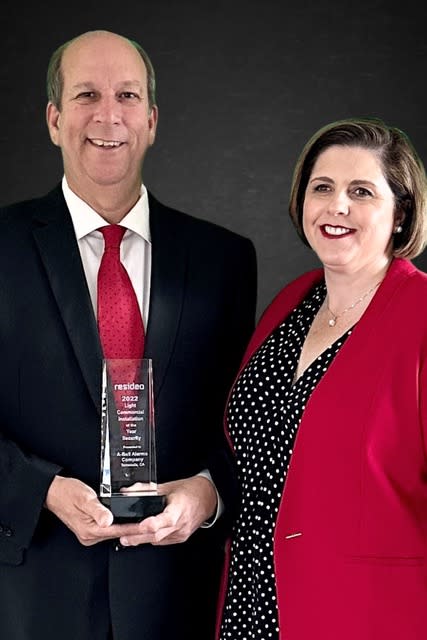 Chis and Kathy Sizemore, owners of A-Bell Alarms Company in Temecula, CA
###