Legacy Partner Spotlight - Rancho Army Navy Store
Rancho Army Navy Store
15 JUL

LEGACY PARTNER SPOTLIGHT – RANCHO ARMY NAVY STORE

The Temecula Valley Chamber of Commerce is proud to honor members who have been with the Chamber for 20 or more years. This spotlight feature is our way of honoring our member's commitment to the Chamber. We want to pay it forward to our valued Legacy Partners by sharing their stories and testimonials with our community.

Business Name: Rancho Army Navy Store

Member Since: 6/3/1987 (35+ Years)

Submitted by: Josh De Lima
In what ways has the partnership with the Temecula Valley Chamber of Commerce helped your business thrive?
Our long standing relationship the Temecula Chamber of Commerce was been great. We can count on them to keep us informed on all aspect of local business. Their willingness to help promote our events, sales, and other aspects of our business really helps us succeed as a small business in a big business world.
Fun Fact: Rancho Army Navy Store was originally founded by a veteran, Carlos Hidalgo Alvarez, who has since passed. His family now owns and operates the Temecula store to this day.
A Bit of History:
"Before Carlos Hidalgo Alvarez purchased the property it was home to the well-known Frontier Museum(pictured below) established by John Bianchi in 1982. The Western-themed museum attracted people from all over the world to see the unique collection of holsters, guns, and other Western goods that John Bianchi had accumulated over the years.
In the 1980's Temecula was young and at an early stage of development, so naturally, there weren't many options for local clothing and or camping goods for people in the area, one of Carlos' fields of experience. Through his eyes, this opportunity held great potential for new growth and a chance to impact a new community in need. After weighing the pros and cons of opening a new store, he decided to purchase and convert the then Frontier Museum into The Rancho Army-Navy Store in 1987. Carlos couldn't open the store all on his own, so thankfully, he had a great reputation for his sound business acumen and ability to foster positive working relationships with everyone. The lot and building were originally designed to house the Frontier Museum, a historic Bianchi-built building that encaptured Western lifestyle and Cowboy culture. A few years later, the store had established itself as a One-Stop place to shop in the heart of Temecula for outdoor enthusiasts and the everyday person.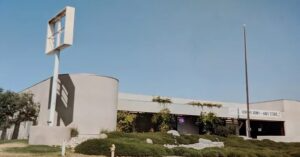 In today's market, we find ourselves as one of the last standing stores that aim and focus on exceptional customer service. At the Rancho Army-Navy Store, you can feel the pulse of our foundation as we have not waivered off of our target to deliver the same values and principles that have made us shine bright since day one. We have served generations of family members, and see this business as an integral part of this ever-changing community of Temecula and the Inland Valley.
The Rancho Army Navy Store is located at 27999 Jefferson Avenue in Temecula and can be seen from Interstate 15 near the Rancho California Road exit (look for the American flag)."