TEMECULA CHAMBER PRESENTS THE 2023 STATE OF THE CITY ADDRESS

Andrea Gonzalez, Marketing Manager
RE: 2023 THE STATE OF THE CITY ADDRESS TO HIGHLIGHT ACHIEVEMENTS AND FUTURE GOALS PRESENTED BY MAYOR ZAK SCHWANK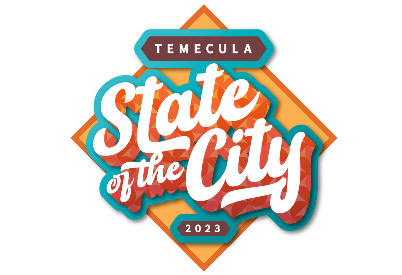 TEMECULA, CA - The Temecula Valley Chamber of Commerce in partnership with The City of Temecula will be hosting the 2023 State of the City Address. This event will be held on Thursday, August 10th, 2023, from 7:00 am – 10:00 am at Pechanga Resort Casino. The honorable Mayor Zak Schwank will discuss the current achievements of the city, as well as projections for the forthcoming and future years. The event includes a Nonprofit Expo where approximately 40 local nonprofit organizations will advertise their resources. This event always has a huge turnout with over 800 City Officials and guests in attendance for the presentation.
Mayor Zak Schwank states, "It is truly an honor to serve Temecula and to be part of a team that places the safety, and a high quality of life for all of its residents, at the forefront. Our great City has enjoyed 33 wonderful years, and I am confident that 2023 will be another year of growth and progress in which we continue to build upon Temecula's reputation as an exceptional place to live, work, and play."
Reservation Information: Reservations are $70 per attendee or $650 per corporate table of 10. Registration and sponsorship opportunities can be found here: https://bit.ly/40lnx0E. For more information, please visit www.temecula.org or call 951-676-5090.
About Temecula Valley Chamber of Commerce:
The Temecula Valley Chamber of Commerce is a non-profit organization based in Temecula, CA. The Mission of the Temecula Valley Chamber of Commerce is to promote positive economic growth while protecting the environment for all businesses and by doing so, support the programs which preserve and improve the quality of life for the entire community. To learn more about the Temecula Valley Chamber of Commerce, please click here. For more information regarding upcoming events, please click here to view the events calendar or contact the Temecula Valley Chamber of Commerce at 951-676-5090 or email info@temecula.org.